When the weather is all cold and rainy like it has been in Austin lately, it sets off my cravings for hot food, both temperature-wise and spice-wise. When that happens, Tarka Indian Kitchen becomes a favorite dining spot for me. I want nothing more than to dive into a bowl of their amazing korma or their creamy tikka masala (as in, literally dive into it, headfirst, but I usually just settle for consuming it, instead).

Not photogenic, but do not let this deter you; Tarka's korma is special.
The dreamy-est, creamiest tikka masala.
Be sure to get an order of garlic
naan
to sop up the dregs with.
Just look at the amount of garlic on these babies! Great for first dates.
When it's warmer out, I'm usually inclined toward one of Tarka's "lighter" dishes, like one of their biryanis (basmati rice stir fried with ginger, garlic, onion, and vegetables and your choice of chicken, lamb, shrimp, vegetables, or
paneer
) or their sheesh kabobs.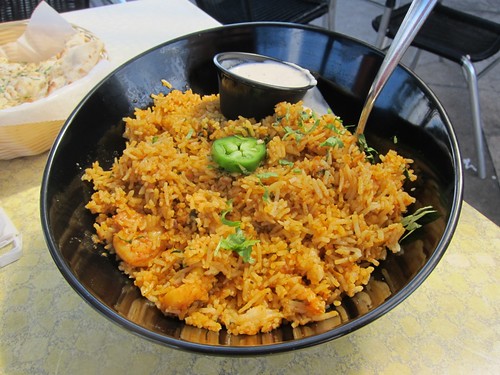 Biryani
Kabob patties made with lamb, garlic, ginger, red onion, herbs & spices
If you need to curry some flavor with an Indian food lover, I highly recommend a visit to Tarka. Looking to experience all the Indian food Austin has to offer? Check out
this comprehensive post
covering all your Austin Indian food needs over at Mad Betty!
Tarka Indian Kitchen
Three locations:
North: 2525 W. Anderson Lane, Austin, TX
South: 5207 Brodie Lane, Austin, TX
Round Rock: 201 University Blvd., Round Rock, TX
Read more...